Top 5 Tendon Pain Facts
11th June 2020
The 5 Best Back Pain Relief Exercises For ANY Back Pain
24th June 2020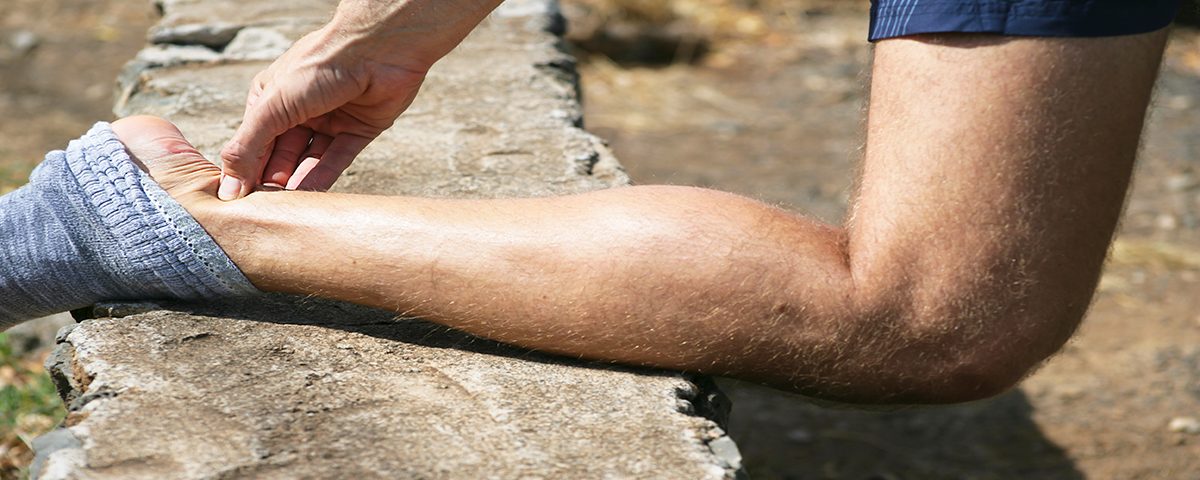 Pain in the back of your ankle? You could have Achilles tendon pain!
What is The Achilles tendon?
Tendons attach muscles to bones. The Achilles tendon attaches your calf muscle to your heel bone. It is named after the mythical Greek warrior Achilles who was held by his heel as he was dipped into the River Styx.
Why does it hurt?
It can get called Achilles tendon pain, Achilles tendonitis or Achilles tendinopathy.  They all refer to pain arising from a problem with the Achilles tendon or quite simply a tender Achilles.
'itis' means inflammation.  If you have brand new pain that you can recall exactly why it began and you have only had it for a couple of weeks having NEVER had it before... It's probably a tendinitis.
IF you have had it for over 6 weeks it is almost guaranteed it is NOT inflammatory therefore NOT truly an 'itis'. It still tends to get called Achilles tendonitis though.
This sounds a picky thing to talk about BUT is VERY important in deciding what advice to give you and how to rehab back to being pain-free.
A question we get asked is "what to do when my Achilles is tight?", this is an early warning sign that you have done a bit too much. If you do the right thing at this point though, it will settle easily and not be a problem.
Do I need a scan?
Unless you CANNOT push up onto your tiptoes the answer is simple.....NO you do not need a scan!   If you have had either an ultrasound or MRI scan that's great,  BUT it will NOT change your rehab!
It's a very distinct fairly localised pain and is very simple for us to diagnose.   Despite how much it hurts there is nothing causing long term harm or damage.
Do I need an injection?
Hell NO!!!  We do not recommend this AT ALL. Steroid injections into the area have a HIGH risk of leading to your tendon rupturing. You definitely DO NOT want that.
How did I get it?
Achilles tendon pain is caused by overdoing it.  You might feel stiffness and pain, worse first thing in the morning AND for the first few steps when you get going after having been sat down.
It's normal for 2 main groups:
If you don't spend much time on your feet = an underused tendon
Runners who have increased their mileage or speed = a 'normal' overused tendon
Should I stop running?
The ultimate question of all runners. "Should I keep running, or should I stop?" With Achilles tendon pain you MAY benefit from a short period of not running.  Don't worry though we can normally get you back running pain-free very quickly.  Using some strength work, basic gait re-education and run retraining techniques. It sounds complicated but don't worry we'll talk you through it and do it with you the first time. 
Achilles Tendonitis Treatment
Let's start with what WON'T help.  Ultrasound machines treatment and acupuncture treatment.  Achilles stretches might feel like they help in the short term but they will NEVER cure it. We also get asked "how do you massage your Achilles tendon?", the answer is....you don't!
The 3 main components of your Achilles tendonitis exercises & rehab that WILL work are
Increasing Muscular Strength & tendon capacity
Gait/Run retraining
Modifying your mileage
Sometimes insoles/orthotics or changing your running trainers can be useful but we'll be able to answer all those questions for you.  There is no one size fits all solution.
If you think you have Achilles tendonitis pain and would like help returning to running pain-free, get in touch!
We have helped hundreds of people recover from their Achilles tendonitis pain.  Whatever your running goal we can help!
Book online using any of the links on this page, call us or get in touch using the contact form below.
We look forward to helping you get back fighting fit!
I had an assessment with Hogan & Mitchell which was so thorough and professional that it put to shame the appointment I had previously attended with a supposedly top consultant (the one thing the consultant did right was to advise me to see a sports physiotherapist). Hogan & Mitchell explained everything in detail so I really understood what my problem was and what I needed to do to rectify it. I had suffered 6 months of Achilles pain, but just 2 months after practising the exercises H&M gave me I have finished a 76 mile walk and there was almost no pain. It was fantastic. I am sure another month of doing the exercises will result in no pain at all. I would most definitely recommend the practice.
Kaeren M.
Went to see Hogan & Mitchell about a troublesome achilles, received great advice which got me running again pain free.
Matt B.
I had persistent pain in my ankle and Achilles, after twisting my ankle running off-road down-hill. I decided to try Hogan and Mitchell when the pain did not resolve itself and I was unable to run without pain. They took a refreshing approach as they did not take my account of the issue at face-value, and worked with me to get to the root cause of the problem.
They demonstrated their diagnosis to me through getting me to do balancing and other exercises which gave a bench-mark for improvement. It was a very different approach from many physios, who rely more on ultrasound and other interventions.  I was very impressed with their follow-up between sessions and openness in explaining the approach we were taking. I am now running 3-4 times a week again and have completed a couple of races. More importantly I am gaining confidence in not twisting my ankle again due to improved strength and balance and I have a set of exercises that I can build into a weekly routine. I strongly recommend Hogan & Mitchell and their approach.
Mandy C.